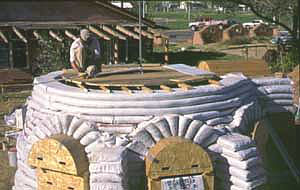 Earthbag Building: The Honey House
:
by Kaki Hunter and Doni Kiffmeyer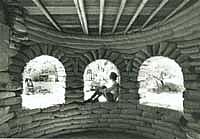 After a hands-on workshop taught by architect Nader Khalili, we returned home inspired to build our first earthbag project. We started with simple, linear, buttressed exterior walls, graduated to serpentine garden walls, progressed to a small dome and are now finishing a larger dome with a vaulted entry way and big sunny arched windows. This last project turned into a casual workshop inviting people to learn 'Flexible Form Rammed Earth,' A term we now use that we feel best describes this construction method.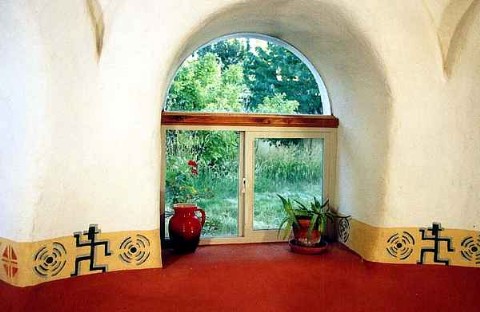 'Flexible Form Rammed Earth (F.F.R.E.)' is a free-form version of rammed earth construction. Since the bags act as a flexible form, it allows the architectural design of curvaceous, sensual structures. We have the ability to mold, bend, writhe and swoop sculptural forms inspired by nature's artistic freedom, while providing structural integrity. Hence, a whole house from foundation to walls to roof can be built using the 'Flexible Form Rammed Earth' technique.
Read the entire Article and see more great designs
HERE
Article sourced by:
http://www.earthbagbuilding.com/
-
Sharing information and promoting earthbag building
FREE MEMBERSHIP
The Web
Blogger
Twitter
Facebook
Helium