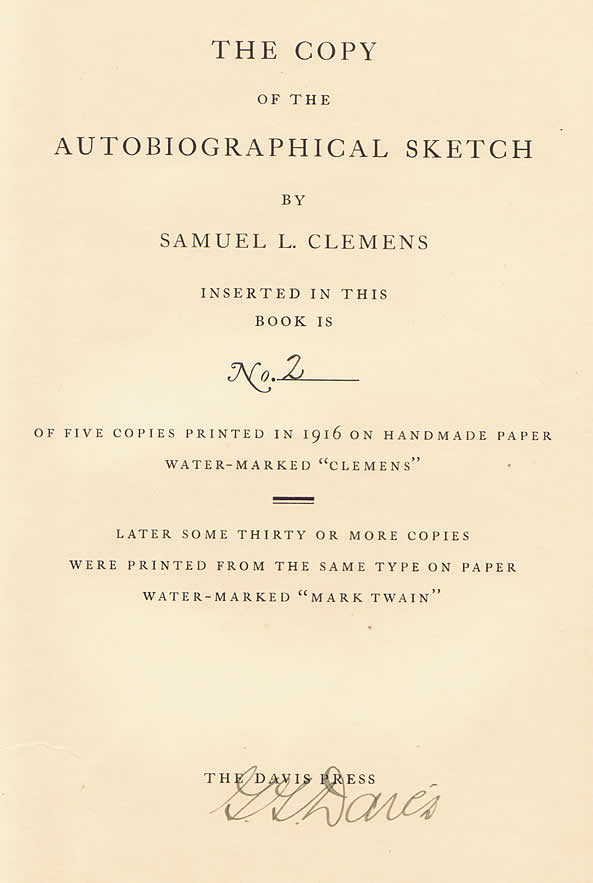 Mark Twain's 1899 Autobiographical Manuscript
(also known as Samuel Langhorne Clemens (1916) and Mark by Mark)
In March 1899 Clemens wrote a fourteen page manuscript which was a short autobiography of himself in the third person voice. The manuscript was intended to be the basis for a closing essay for the final volume of a uniform edition of his works that was being prepared by publisher Frank Bliss for the American Publishing Company. According to Mark Twain biographer Justin Kaplan, the manuscript "can be read as a statement about himself by a man who had already in his lifetime become a legend, who continued to manipulate and redefine the symbols of which his legend was based, and who was driven by the need to impose order on a sprawling life which he often felt was without meaning" (Kaplan, p. 356).
On March 31, 1899 Clemens mailed the draft of his autobiography to Frank Bliss with these instructions at the top of the first page:
"Mrs. Clemens wishes you to ask Sam Moffett, my nephew (editor of the New York Journal) to write this biographical sketch from these notes & then she would like to see it before it is printed. SLC" (American Book Prices Current, p. 850).
Clemens intended the facts and comments in his manuscript serve as a basis for Samuel Moffett's biographical essay. Moffett reworked the essay and titled it "Mark Twain: A Biographical Sketch." Moffett's essay appeared in the October 1899 issue of McClure's Magazine and was used as the closing essay in Volume XXII of the 1899 uniform edition of Mark Twain's Works. The essay in McClure's was accompanied by this footnote which also contained a plug for the new uniform edition.
Read more here.
Copyright © Special Feature by
Barbara Schmidt
. Content sourced via
TwainQuotes.com
.
Selected Amazon Links:
Letters From The Earth
The Entire Mark Twain Collection (300+ Works) With table of contents
Mark Twain's Helpful Hints for Good Living: A Handbook for the Damned Human Race