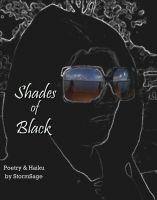 Its finally here; my 2nd ebook. I have chosen to publish with
Smashwords.com
a great site so far, with prompt tech support and user friendly layout.
It has taken me some time fiddling around with formatting to get the layout looking right for ebooking. The cover image is a photo of me taken on holiday (digitally edited, odviously).
Please let me know what you think about the book; I love feedback, good and bad - in the end it all helps me grow and evolve. Enjoy...
'Shades of Black'
- Poetry and Haiku by StormSage
Download
Preview
free.
Purchase this book
Here
.